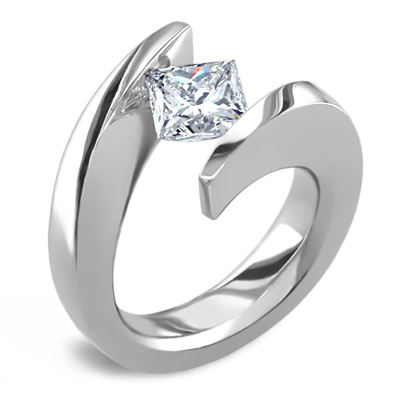 Every time my husband sees a tension-set engagement ring, he goes off on a tangent about how much he likes them and how that's the kind of ring I should have gotten. Good thing I got to help pick it out.
Don't get me wrong. I think tension-set rings are awesomely contemporary and very pretty, but there's just something about the tension setting that makes me nervous. It just seems like tension couldn't be enough to hold that valuable little rock in place forever.
So are my fears rational? Or am I just paranoid?
Apparently setting a diamond by tension alone is quite the craft; the jeweler has to be incredibly skilled, because if they set the stone with too much tension, it can crack, and if there's not enough tension, that tiny little gem could be lost forever. Sort of a Catch-22, don't you think?
Also, if you're really into having a gold, white gold, silver, or platinum ring, you better be okay with a larger, heavier ring. Because these metals are softer, jewelers have to use more to create the required tension to get the contemporary setting style.
Anyway, those are the major cons for buying a tension set ring. Now that you know of the potential flaws though, it's only fair to mention the benefits. Here they are (and in list format, no less!):
The tension setting has only been around for about 30 years, so they are the most modern style available.
Experienced jewelers and manufacturers must be licensed to engineer tension settings so if you go through a professional, you can probably feel secure with your ring.
If you go with titanium, not only can you count on having a less bulky ring, but it allows for a tensile strength of between 30,000 and 45,000 pounds per square inch—at least 100 times more than most gold, silver or platinum tension set rings!
Most manufacturers agree that if you have your ring inspected at least once a year, any problems with your tension setting will be detected before your diamond cracks or is lost.
Basically, if you like the tension setting, go for it! From what I found out, titanium seems to be becoming ever more popular, and you'll want to make sure you invest in an inspection plan through your jeweler. Most stores offer this regardless of what type of ring you get, so just make sure to go ahead with it and cash in ever 6 months to a year!
Do you have any stories about your tension set diamond? Let us know what you know by commenting below!